In the world of online marketing, all the content that adds value to your business is very important. Les Google reviews they are a tool that, while not proven to directly improve your brand's web positioning, yes they help you. And it is that if you have some quality reviews the user will give more confidence to buy the product.
Google reviews should be part of your strategy content marketing. That's why we want to show you the reasons why you should opt for the use of these tokens or reviews on Google My Business. We will also teach you how to monitor them and increase their number.
Google reviews for my business on Google My Busines are importants?
First of all, Google reviews must be defined as one rating item managed by Google My Business. It allows businesses to have an information sheet of their business activity and location. too shows opinions and comments of users about a particular brand or place.
These GMB reviews they have a rating of 1 to 5 stars and incorporate a text box for the user to comment on their experience in your business. This tab is to the right of the search results and only the business administrator can edit or delete the information.
The importance of Google reviews lies primarily in the fact that they serve the user to decide whether or not to buy a service or product. At the same time for the business is an indicator that serves you for improve your products and have closer contact with the customer.
Who are allowed to write in Google reviews?
All users can write reviews on Google for free. In other words, it is not even necessary to visit the premises or to have contracted a service. Don't worry, there are many ways to know if a review is from someone who just wants to hurt your business.
What are Local Guides or Local Guides?
Truth or authorized sources are a valuable element in Google reviews, and is what is known as local guides or Local Guides. These are people who theoretically know the product, site, or service, and therefore have an objective opinion on their comments.
In this way, a user who comments frequently on the tabs, the search engine will rate his comments and highlight them in the informative review. Getting these types of users to add valuable content to your listing will increase your visibility in local search versus the competition.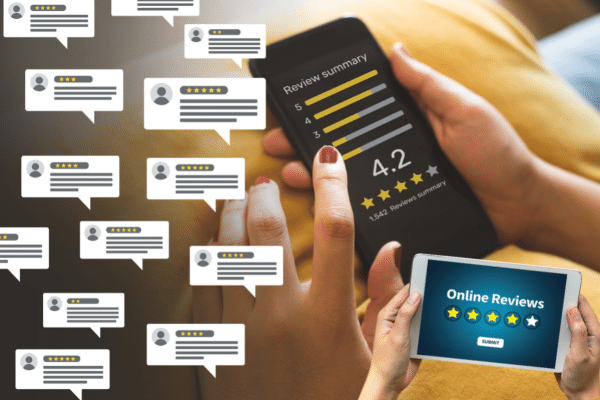 Reasons to pay attention to them
It's important to know some of the reasons why it's important to make use of Google reviews. It is also advisable to know its main benefits to make possible the long-awaited feedback with customers.
Achieve greater brand reputation.
One of the main purposes of GMB reviews is to measure online reputation. And of course, the giant Google will position companies that have higher average ratings. This significantly improves the brand's reputation with customers.
This factor serves as a reliable help for people when making a purchasing decision.
According to some studies, al around 90% consumers read Google reviews in advance before visiting a business or deciding to purchase a product. This is why this item is key for consumers to perform faster purchase conversion.
They help with local SEO positioning
Local SEO is a strategic process which encompasses efforts local business optimization. And precisely one of the main features is the reviews and opinions that Google puts in the business template.
With this information about your business and location on Google Maps it will be a plus to appear in the top search sites.
For example, when you're looking for a doctor or specialist in a particular area, you're likely to put "doctors near my home" in the search engine. This is how the names of the nearest doctor's offices will appear immediately according to the location registered in Google Maps.
Other benefits of Google reviews
Having an information and location card on Google Maps will always be a great decision and a great way for the online community to value and talk about your site on the Internet. Here are some other important benefits of using this tool.
Permanently update your business
This is a system that works like automatic alert when you spend time unpublished in Google reviews. It will notify you when a new one occurs evaluation, as they are the protagonists of this indicator that adds value to the brand.
It is recommended respond in a timely manner every opinion so that customers are aware that the company stays active.
Also, this indicator notifies you in advance of national or regional holidays. You will be able to update your operating information these days and times, as well as for any other important events.
Google reviews are definitely a key element of content marketing. Customer feedback has always been important in improving a product or service. Now, with digitization, this tool becomes a very humane attitude to understand the opinion of the consumer and make their experience a more pleasant purchase.
To get positive feedback from your customers you can apply some strategies such as:
-Offer a discount on the next purchase.
-Invite relevant users to try some products or services in order to know their opinion or comments.
-Know where your consumers see your strengths and what you need to improve.